Tension Set Crossover Diamond Ring
By Jessie Thomas
£11,000
A brilliant cut diamond tension set in a curved design.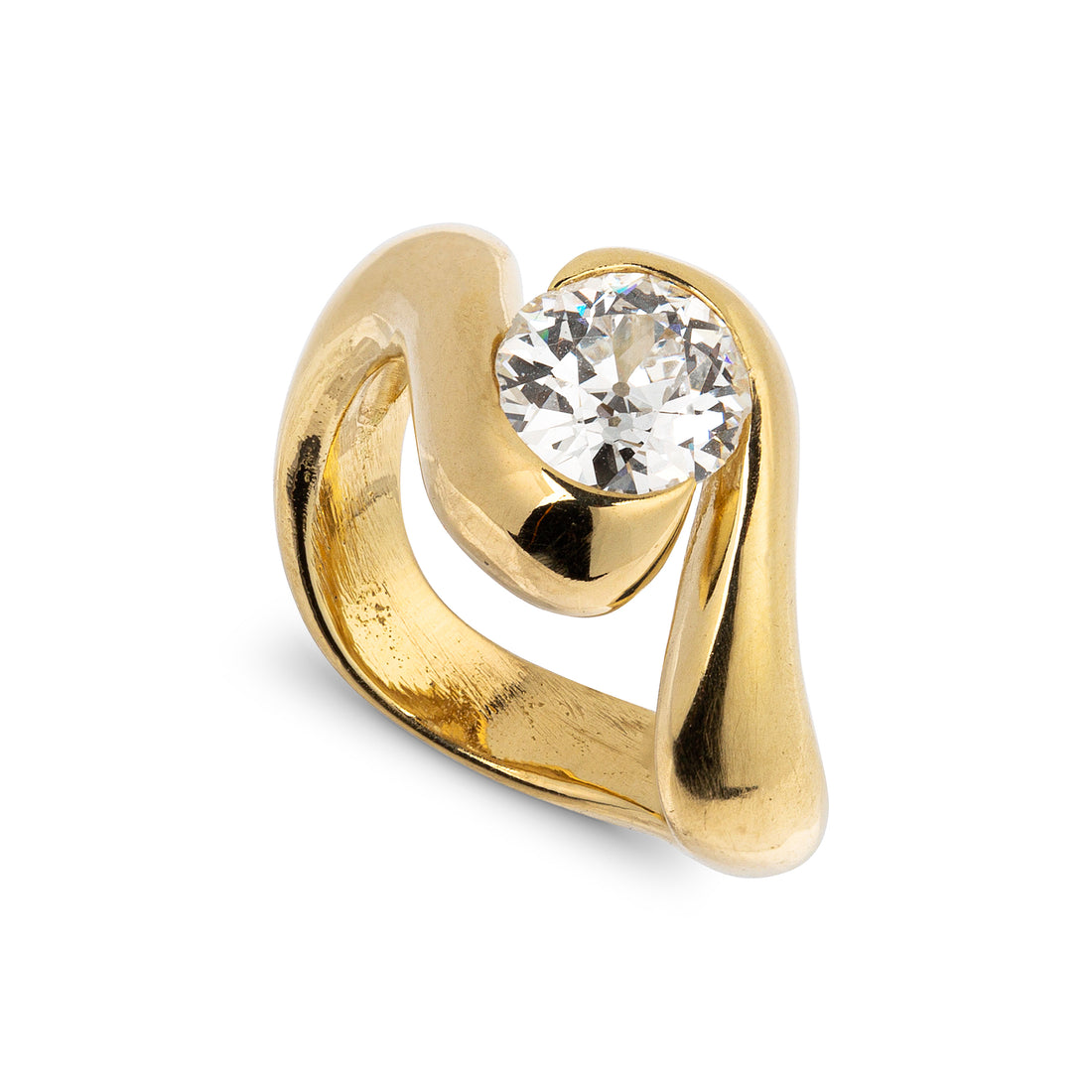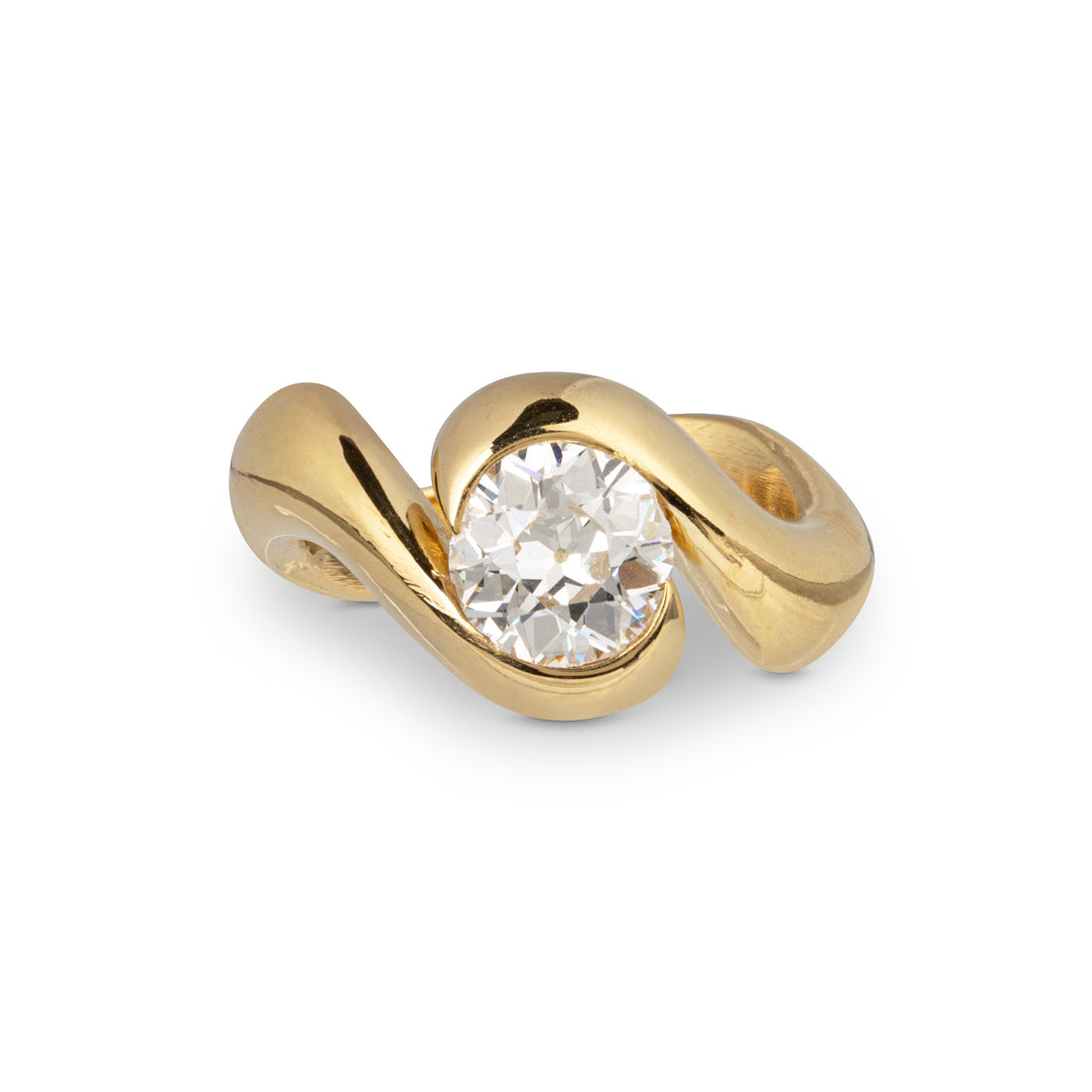 This Ring is Made to Order
Delivery in 2 Weeks.
A large brilliant cut diamond tension set in curves of 18k recycled gold, this ring forms part of the signature capsule engagement ring collection by jeweller Jessie Thomas.
Each piece is individually handcrafted in London, delivery takes two weeks from order, please do let us know if you need the piece sooner. All Jessie Thomas rings can be created and customised using different metal types, different diamond sizes and cuts, and engraving can added on request.
For more information or to view this ring, please make an enquiry below.
Ring Details
One of London's most coveted engagement ring designers, goldsmith Jessie Thomas designs and creates all her pieces in her central London workshop. Her latest collection of fully customisable made to order designs are modern takes on classic engagement ring silhouettes, with soft lines, wide bands and unusual setting techniques adding sleek detail and wearable style.

Considered to be the ultimate token of love, the diamond has long been associated with feelings of eternity, invincibility and power. A naturally occurring substance so hard that Romans believed it would accompany the dead on their journey through the afterlife, the diamond's power and allure is traced back to its immense strength, and the associated symbolism of eternal love.

White diamonds are seen as both the standard and the ultimate stone of choice for engagement rings. Their lack of colour makes them easy to wear on any skin tone, and the availability of different cuts, shapes and sizes means you can make unique and unexpected choices in design - it's not just about the round solitaire.

All the diamonds used by our Designers are responsibly sourced through well established suppliers and trusted relationships. Always ask your Designer about the provenance of diamonds if this is important to you.

Diamonds are valued on their brilliance and beauty, based on the system of the 4 Cs - colour, cut, clarity and carat weight, and we always suggest choosing a diamond that has been selected for you by a trusted jeweller - even an untrained eye will be able to spot the most desirable diamond amongst a line-up of a few to compare, with the help of an expert.

For more detailed information on the 4 Cs and which factors are actually the most important, please take a look at our Guide to the 4 Cs.

Diamonds are traditionally the birthstone of April. See all diamond rings here.

Round brilliant cut diamonds are the most popular diamond shape. From round old-mine and European cuts, to the high-sparkle of the modern 'Brilliant' cut, round diamonds are the most enduring and popular shape throughout the centuries of diamond cutting history.

The modern 'brilliant' round cut is cut for maximum sparkle, or as its name suggests, brilliance. Each of the 57or 58 facets cut into the stone have been meticulously measured and maximised to allow the optimum reflection or light to bounce around inside the diamond, reflecting out a brilliant sparkle. The ubiquitous sparkle of the brilliant cut round diamond makes it an extremely versatile choice, easy to wear, and a good level of sparkle even with inclusions.

See all round cut diamond rings here.

The diamond featured in the image is 1.4cts. Other sizes are available as a custom order, please make an enquiry to find out more.

Gold is a naturally occurring metal with a warm, glowing finish when polished, and remains the most popular choice for engagement rings due to its natural beauty and hard-wearing strength.

Pure 24k gold is naturally a soft material, and considered too soft to create jewellery with, so it is mixed with small amounts of other metals to create an alloy.

As well as increasing the durability of the gold, adding alloys can also change the colour of the gold to produce rose or white gold, for example.

18k yellow gold is made up of 75% pure gold, and 25% alloy, which would usually include silver and copper.

18k rose gold is made up of 75% pure gold, 22.2% copper, and 9.2% silver.

18k white gold is made up of 75% pure gold and 25% palladium or platinum.