Cushion Cut Diamond & Emerald Halo Ring
By Hattie Rickards
A cushion cut diamond with an emerald halo, and baguette cut diamond side stones.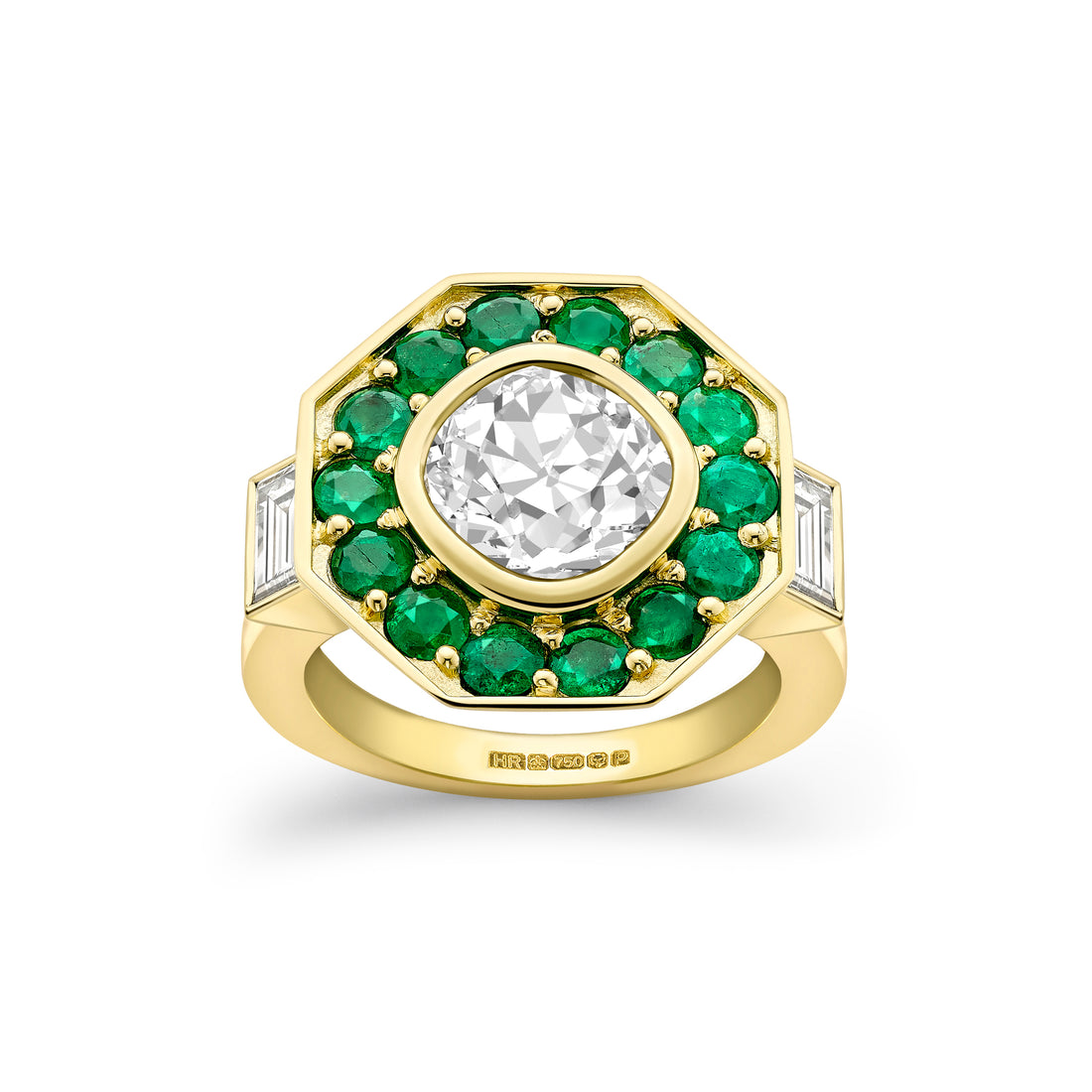 This Ring is One of a Kind
Delivery in approximately 12 weeks
This is a bespoke design that has previously sold, shown here for inspiration.
The client's inherited cushion cut diamond is surrounded by a round emerald halo, and flanked by two baguette cut diamond side stones. Set in 18k yellow gold.
Bespoke engagement rings by Hattie Rickards start from £7000.
Please note that the bespoke process can take up to 12 weeks, depending on the individual design and the rarity of the gemstones or diamonds you choose.
If you would like to speak to Hattie about designing a custom engagement ring or other meaningful piece, please make an enquiry.
Ring Details
Dedicated to the design of sophisticated jewellery that tells a personal story for the wearer, Hattie Rickards Jewellery produces distinctly creative engagement rings, bespoke commissions and other personalised pieces with outstanding quality craftsmanship.

Emeralds are a green coloured precious gemstone, and one of the four most desirable gemstones worldwide, alongside diamonds, rubies and sapphires.

Emeralds fall below diamonds, rubies and sapphires in terms of hardness, due to the fact that most emeralds have a high number of inclusions in them - small splits and breakages visible in the stone - so they can shatter quite easily and are considered a fragile gemstone.

As emeralds are usually quite 'included' - where there are marks that are clearly visible in the stone - the colour and the clarity are considered to be the most important factor in determining value. So as with all gemstones the colour is king, and tends to determine price, with emeralds it's also how clear the gemstone is. It's normal to have a few inclusions in an emerald, so instead it's important to choose a bright colour that sparkles and glows a deep green. Emeralds too pale will show the inclusions even more, and too dark will appear dull.

It's also important to set emeralds securely, usually in a bezel setting rather than a claw setting, so the metal goes all the way around the stone, protecting it.

Emerald is traditionally the birthstone of May. View all emerald rings here.

Cushion cut diamonds are 4 sided in shape, with the corners 'cut off' to form a softer silhouette, like a pillow. They are found in a variety of square or rectangular shapes, and whereas they don't tend to emit as much pure white sparkle (brilliance) than their round counterparts, they have a lot of 'fire', which is an effect produced when light disperses into rainbow colours within the stone.

One of our favourite cuts for its soft, pillowy shape, the cushion cut diamond looks great set on its own in a wider, curved band, or as an unusual contrast in a round setting.

See all cushion cut diamond rigs here.

Gold is a naturally occurring metal with a warm, glowing finish when polished, and remains the most popular choice for engagement rings due to its natural beauty and hard-wearing strength.

Pure 24k gold is naturally a soft material, and considered too soft to create jewellery with, so it is mixed with small amounts of other metals to create an alloy.

As well as increasing the durability of the gold, adding alloys can also change the colour of the gold to produce rose or white gold, for example.

18k yellow gold is made up of 75% pure gold, and 25% alloy, which would usually include silver and copper.

18k rose gold is made up of 75% pure gold, 22.2% copper, and 9.2% silver.

18k white gold is made up of 75% pure gold and 25% palladium or platinum.