Cognac Diamond Strata Ring
By Shivani Chorwadia
£5,500
A modern solitaire featuring a rich brown cognac diamond, set in yellow gold.
Bespoke versions of this design are possible, please get in touch to find out more.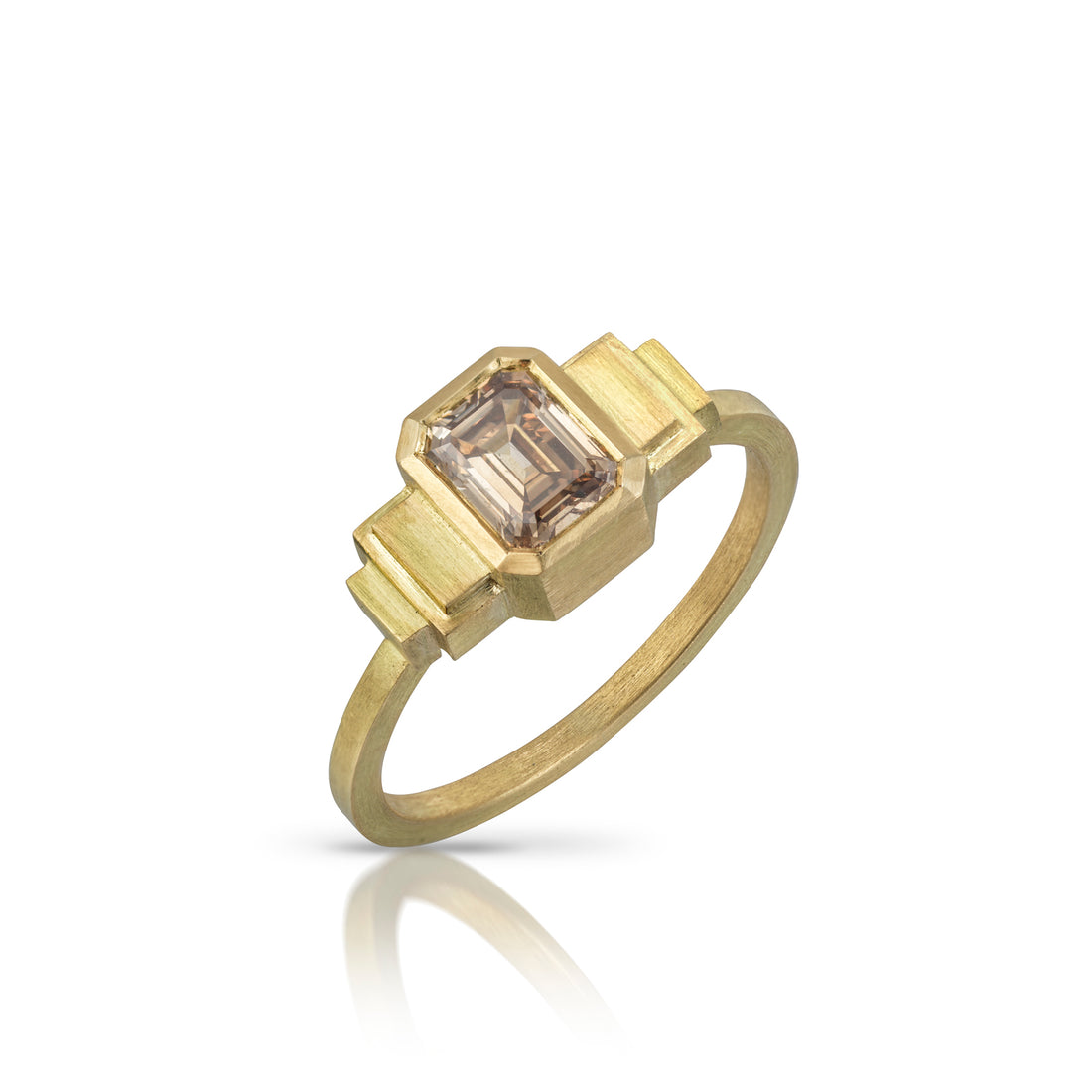 This Ring is Made to Order
Delivery in 8 - 12 weeks
This design is now sold. Crafted in the designer's signature style, the clean lines of the stepped gold design mirror the emerald cut of the cognac coloured diamond.
Available in size R.
Resizing is possible +/-3 sizes, and will take up to 3 weeks.
Bespoke options are also available using different gemstones and sizes, please make an enquiry for more information.
Designed and handmade in the UK.
Ring Details
Shivani Chorwadia is a modern fine jewellery studio creating pieces for every day wear. With a focus on intelligent design and sustainable practices, the collection is considered, carefully crafted, and rooted in a geometric aesthetic.

Champagne, cognac, whiskey or simply 'brown' coloured diamonds are just that - light brown coloured diamonds that were only a few years ago dismissed as poor quality or undesirable alternatives to white diamonds. But in the rise of alternative engagement rings, their use in jewellery design has become more prominent, with some shades being highly covetable. Particularly attractive when mixed with yellow gold, a champagne diamond is wearable, dusky shade of soft yellowy brown, and works particularly well in modern style engagement or commitment rings.

View all champagne diamond rings here.

Emerald cut diamonds feature the distinctive step cut - where the facets of the diamond are long, open and straight, rather than short and close together as found in brilliant round cuts. This means that emerald cuts should be reserved for high quality diamonds where there are few inclusions and a bright white colour, as the unforgiving step-cut reveals imperfections to the naked eye. Combined with a large 'table' (the flat top facet of the stone) you can literally peer into the centre of the diamond and see through it, like a window.

Serious and geometric, the emerald cut diamond works best in larger shapes where they create a real impact, and we love them set east-to-west for a contemporary vibe.

See all emerald cut diamond rings here.

The emerald cut diamond featured in the image is 0.92cts. Other sizes and gemstones are available as custom orders, please make an enquiry to find out more.

Gold is a naturally occurring metal with a warm, glowing finish when polished, and remains the most popular choice for engagement rings due to its natural beauty and hard-wearing strength.

Pure 24k gold is naturally a soft material, and considered too soft to create jewellery with, so it is mixed with small amounts of other metals to create an alloy.

As well as increasing the durability of the gold, adding alloys can also change the colour of the gold to produce rose or white gold, for example.

18k yellow gold is made up of 75% pure gold, and 25% alloy, which would usually include silver and copper.

18k rose gold is made up of 75% pure gold, 22.2% copper, and 9.2% silver.

18k white gold is made up of 75% pure gold and 25% palladium or platinum.