Emerald & Baguette Cut Diamond Ring
By Hattie Rickards
A Modern Deco style emerald cut diamond ring.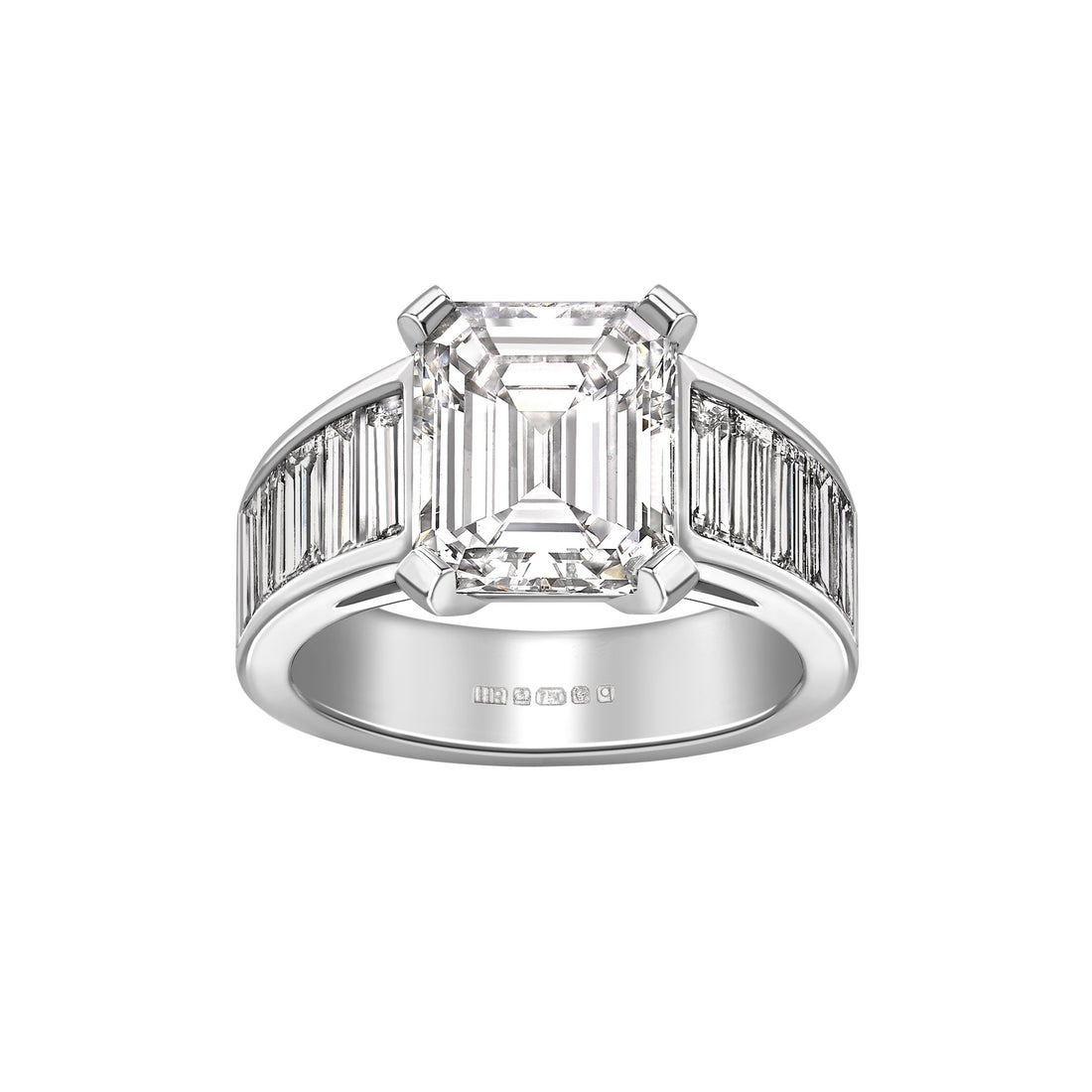 This Ring is One of a Kind
Delivery in approximately 12 weeks
This is a bespoke design that has previously sold, shown here for inspiration.
A bold remodelling of a client's emerald cut diamond with custom cut baguette diamonds, in platinum.
Bespoke engagement rings by Hattie Rickards start from £7000.
Please note that the bespoke process can take up to 12 weeks, depending on the individual design and the rarity of the gemstones or diamonds you choose.
If you would like to speak to Hattie about designing a custom engagement ring or other meaningful piece, please make an enquiry.
Ring Details
Dedicated to the design of sophisticated jewellery that tells a personal story for the wearer, Hattie Rickards Jewellery produces distinctly creative engagement rings, bespoke commissions and other personalised pieces with outstanding quality craftsmanship.

Considered to be the ultimate token of love, the diamond has long been associated with feelings of eternity, invincibility and power. A naturally occurring substance so hard that Romans believed it would accompany the dead on their journey through the afterlife, the diamond's power and allure is traced back to its immense strength, and the associated symbolism of eternal love.

White diamonds are seen as both the standard and the ultimate stone of choice for engagement rings. Their lack of colour makes them easy to wear on any skin tone, and the availability of different cuts, shapes and sizes means you can make unique and unexpected choices in design - it's not just about the round solitaire.

All the diamonds used by our Designers are responsibly sourced through well established suppliers and trusted relationships. Always ask your Designer about the provenance of diamonds if this is important to you.

Diamonds are valued on their brilliance and beauty, based on the system of the 4 Cs - colour, cut, clarity and carat weight, and we always suggest choosing a diamond that has been selected for you by a trusted jeweller - even an untrained eye will be able to spot the most desirable diamond amongst a line-up of a few to compare, with the help of an expert.

For more detailed information on the 4 Cs and which factors are actually the most important, please take a look at our Guide to the 4 Cs.

Diamonds are traditionally the birthstone of April. See all diamond rings here.

Emerald cut diamonds feature the distinctive step cut - where the facets of the diamond are long, open and straight, rather than short and close together as found in brilliant round cuts. This means that emerald cuts should be reserved for high quality diamonds where there are few inclusions and a bright white colour, as the unforgiving step-cut reveals imperfections to the naked eye. Combined with a large 'table' (the flat top facet of the stone) you can literally peer into the centre of the diamond and see through it, like a window.

Serious and geometric, the emerald cut diamond works best in larger shapes where they create a real impact, and we love them set east-to-west for a contemporary vibe.

See all emerald cut diamond rings here.

Platinum is a bright, white precious metal that is commonly used in wedding bands and engagement rings as an alternative to white gold. It is more durable than gold due to a higher density and chemical composition, so it is less likely to break and suffer wear and tear. It is excellent and staying bright and shiny and resists tarnishing very well.