Five Sapphire Rainbow Ring
By Lily Kamper
£3,000
A rainbow of coloured sapphires set in 18k yellow gold.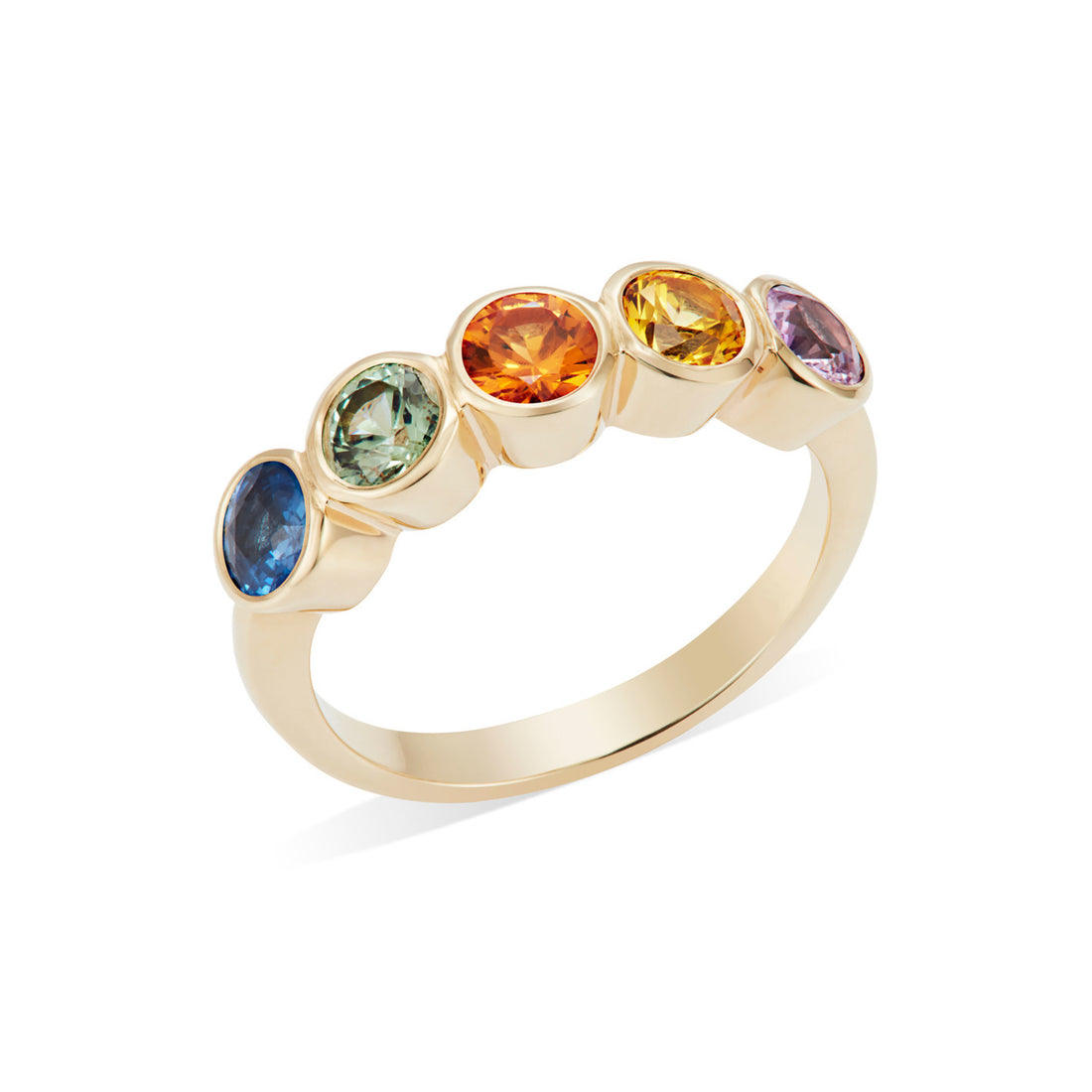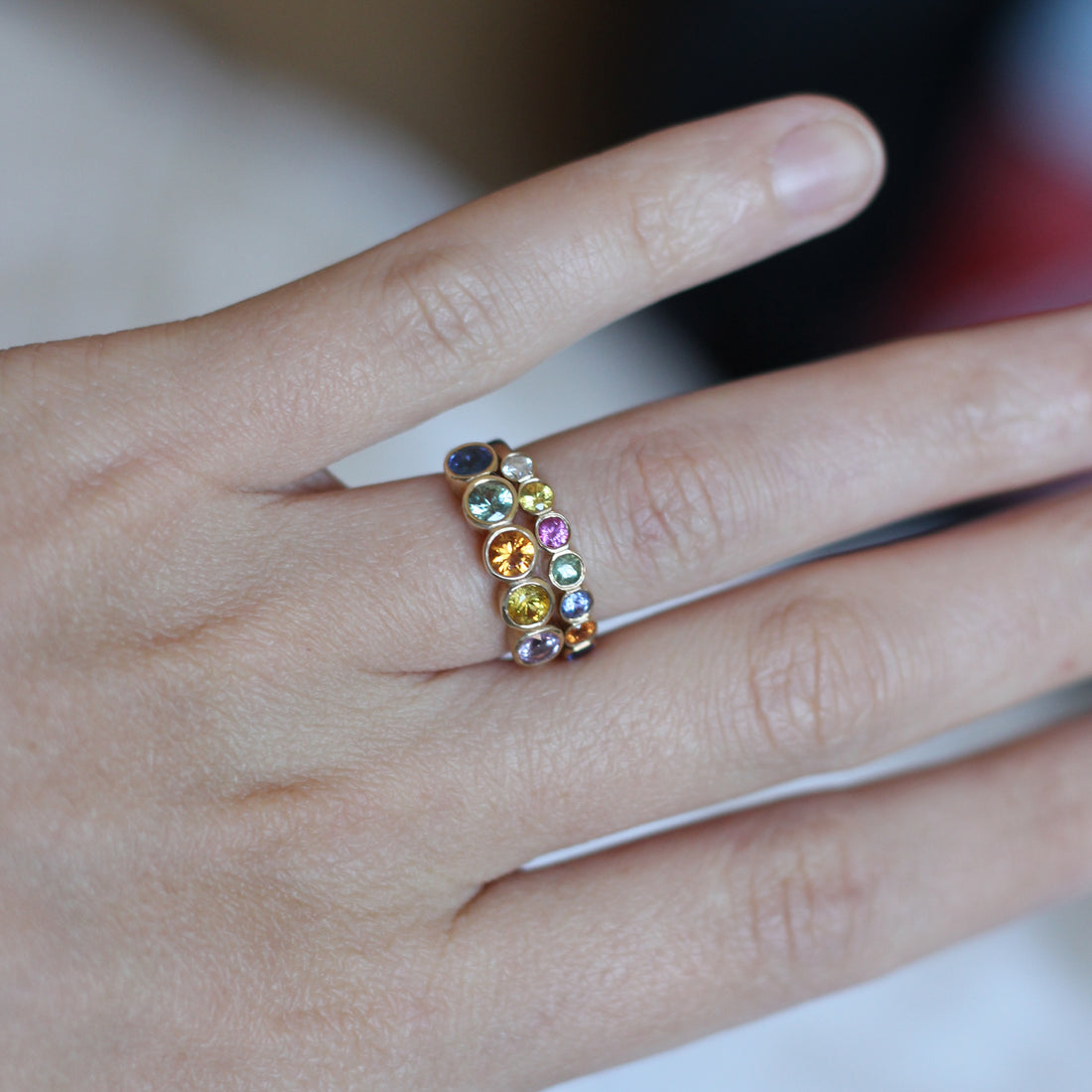 This Ring is Made to Order
Delivery in 6 Weeks.
Fully customisable and able to be made in the colour palette of your choice, this Rainbow ring is a pop of colour in pure 18k yellow gold. The perfect gift to celebrate family love and new additions.
This Lily Kamper piece is made to order. For more information or to design a custom version with different gemstones or metals, please make an enquiry below.
Ring Details
Lily Kamper creates bright, geometric designs from her London studio using unusual colour combinations of diamonds, sapphires, tourmalines and emeralds. A graduate of the prestigious Royal College of Art in London, Lily is a highly sought after designer for her confident and colourful engagement rings and bespoke designs.

Most commonly found in shades of blue, sapphires are also available in pretty much every other colour you can think of, with pink, yellow, peach and green being the most popular after blue. Sapphires are also very hard, with their rating on the Moh's Scale falling just under diamonds, so they make great gemstones for daily wear on the hand.

The quality and therefore price of sapphires is based on their colour, cut and clarity, and large stones can be GIA certified as diamonds are.

The colour of the sapphire is by far the most important of all these. The shade, the tone and the depth of colour, as well as the uniformity of the colour - how well the shade is spread over the stone evenly - make a huge difference to price. Deep, dark coloured tend to hide the sparkle of the stone, so become less desirable, and sapphires that show a pure, even colour and brightness will be more expensive.

You may see sapphires where there are two different shades of colour in the stone. This is called a bi-colour sapphire, and is very common. Pure coloured sapphires with a rich, even tone in a single hue are the most conventionally desirable varieties, and therefore the most expensive. Common 'cheaper' sapphire rings found online will often feature lesser quality gemstones and the images may have been digitally altered, so make sure you always see a coloured gemstone in real life before buying.

Depending on the size requirements sapphires make a beautiful alternative to coloured diamonds. Yellow sapphires, white diamonds and yellow gold are currently a popular choice, but our favourite sapphire shade is a murky olive green.

Sapphires are traditionally the birthstone of September. See all Sapphire rings here.

Round brilliant cut diamonds are the most popular diamond shape. From round old-mine and European cuts, to the high-sparkle of the modern 'Brilliant' cut, round diamonds are the most enduring and popular shape throughout the centuries of diamond cutting history.

The modern 'brilliant' round cut is cut for maximum sparkle, or as its name suggests, brilliance. Each of the 57or 58 facets cut into the stone have been meticulously measured and maximised to allow the optimum reflection or light to bounce around inside the diamond, reflecting out a brilliant sparkle. The ubiquitous sparkle of the brilliant cut round diamond makes it an extremely versatile choice, easy to wear, and a good level of sparkle even with inclusions.

See all round cut diamond rings here.

Gold is a naturally occurring metal with a warm, glowing finish when polished, and remains the most popular choice for engagement rings due to its natural beauty and hard-wearing strength.

Pure 24k gold is naturally a soft material, and considered too soft to create jewellery with, so it is mixed with small amounts of other metals to create an alloy.

As well as increasing the durability of the gold, adding alloys can also change the colour of the gold to produce rose or white gold, for example.

18k yellow gold is made up of 75% pure gold, and 25% alloy, which would usually include silver and copper.

18k rose gold is made up of 75% pure gold, 22.2% copper, and 9.2% silver.

18k white gold is made up of 75% pure gold and 25% palladium or platinum.