Modern Eternity Diamond Baguette Ring
By Guy & Max
Modern eternity ring with baguette cut diamonds in 18k yellow gold.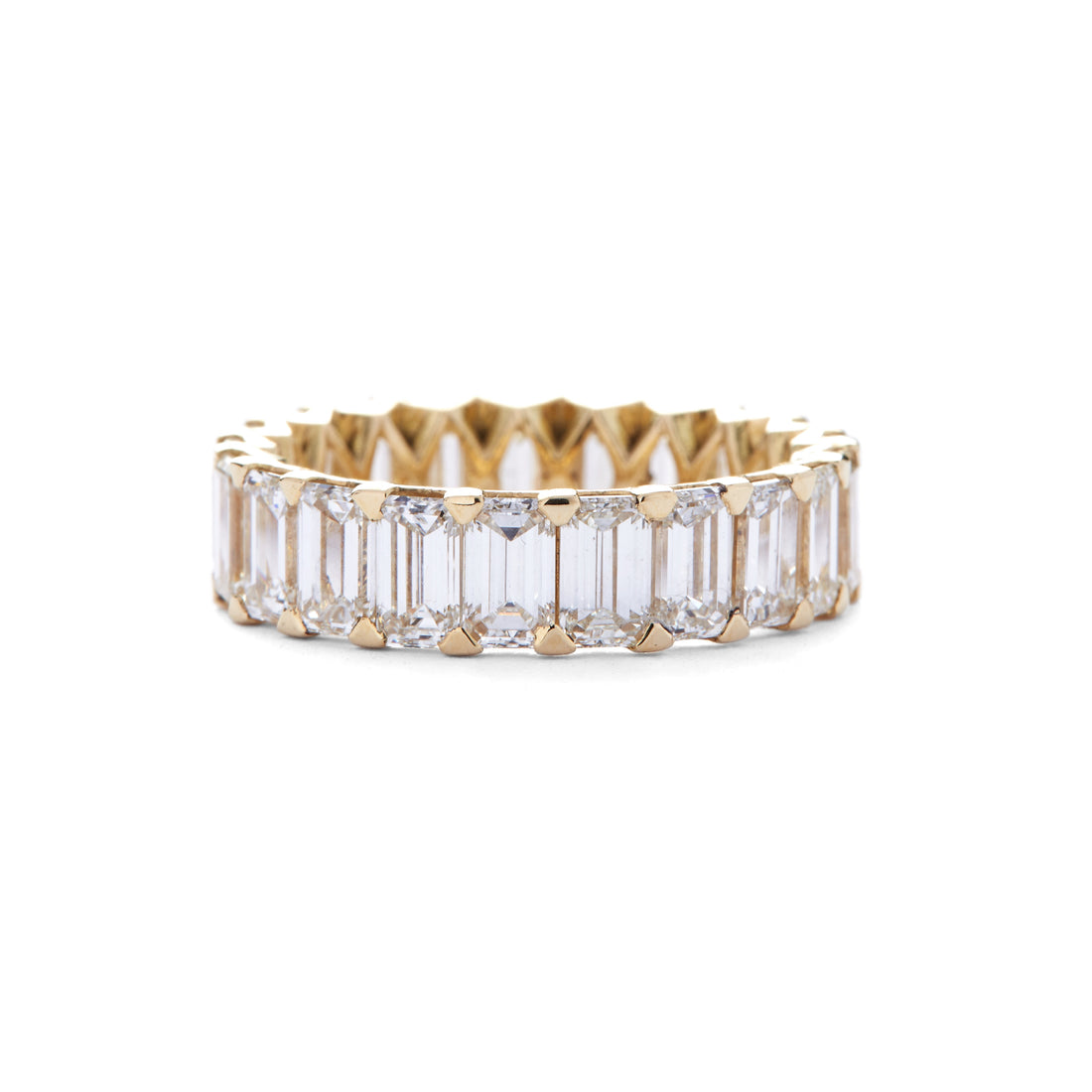 This Ring is One of a Kind
Delivery in 8 - 12 Weeks
This is a bespoke design that has been previously sold, shown here for inspiration. Variations on this design can be created, please enquire below for more information.
Bespoke designs by Guy & Max start from £3000.
An impressive large emerald set in between two trillion cut diamonds. Created by exciting design duo Guy & Max in London, this modern take on a vintage style design remains a bold and impactful choice for a pop of colour.
Please note that the bespoke process can take up to 12 weeks, depending on the complexity of the design and the rarity of the diamonds or gemstones you choose.
If you would like to speak to Guy & Max about designing a custom ring or piece of meaningful jewellery, please make an enquiry.
Ring Details
Brothers Guy and Max combine romanticism, artistry and technology to produce objects of distinction, crafted to perfection. Working to highly personalised standards on bespoke projects that result in truly unique, one off, heirloom quality jewels, the brothers have achieved cult status in a jewellery industry overcrowded with 'same-same' brands. Their intense attention to detail and unfaltering passion is evident in every part of their business, and they encourage their clients to be as overly fussy and obsessed as they are in pursuit of the ultimate design.

Considered to be the ultimate token of love, the diamond has long been associated with feelings of eternity, invincibility and power. A naturally occurring substance so hard that Romans believed it would accompany the dead on their journey through the afterlife, the diamond's power and allure is traced back to its immense strength, and the associated symbolism of eternal love.

White diamonds are seen as both the standard and the ultimate stone of choice for engagement rings. Their lack of colour makes them easy to wear on any skin tone, and the availability of different cuts, shapes and sizes means you can make unique and unexpected choices in design - it's not just about the round solitaire.

All the diamonds used by our Designers are responsibly sourced through well established suppliers and trusted relationships. Always ask your Designer about the provenance of diamonds if this is important to you.

Diamonds are valued on their brilliance and beauty, based on the system of the 4 Cs - colour, cut, clarity and carat weight, and we always suggest choosing a diamond that has been selected for you by a trusted jeweller - even an untrained eye will be able to spot the most desirable diamond amongst a line-up of a few to compare, with the help of an expert.

For more detailed information on the 4 Cs and which factors are actually the most important, please take a look at our Guide to the 4 Cs.

Diamonds are traditionally the birthstone of April. See all diamond rings here.

Baguette diamonds are rectangular in shape, and are usually used as side stones, or set in a line. The small number of facets, just 14, mean that like their step-cut friends the emerald cut and the Asscher cut, imperfections are clearly visible. Jewellers tend to use baguette cut diamonds as a small accent stone rather than the main feature, and they offer a sleek, minimal, low-key elegance without too much sparkle.

We love a line of channel set baguette diamonds to create a plane of solid sparkle alone the finger.

See all baguette cut diamond rings here.

Gold is a naturally occurring metal with a warm, glowing finish when polished, and remains the most popular choice for engagement rings due to its natural beauty and hard-wearing strength.

Pure 24k gold is naturally a soft material, and considered too soft to create jewellery with, so it is mixed with small amounts of other metals to create an alloy.

As well as increasing the durability of the gold, adding alloys can also change the colour of the gold to produce rose or white gold, for example.

18k yellow gold is made up of 75% pure gold, and 25% alloy, which would usually include silver and copper.

18k rose gold is made up of 75% pure gold, 22.2% copper, and 9.2% silver.

18k white gold is made up of 75% pure gold and 25% palladium or platinum.