Yellow Sapphire and Diamond Ring
By Gee Woods
£3,410
A mimosa yellow sapphire set between two Asscher cut white diamonds, in 18k yellow gold.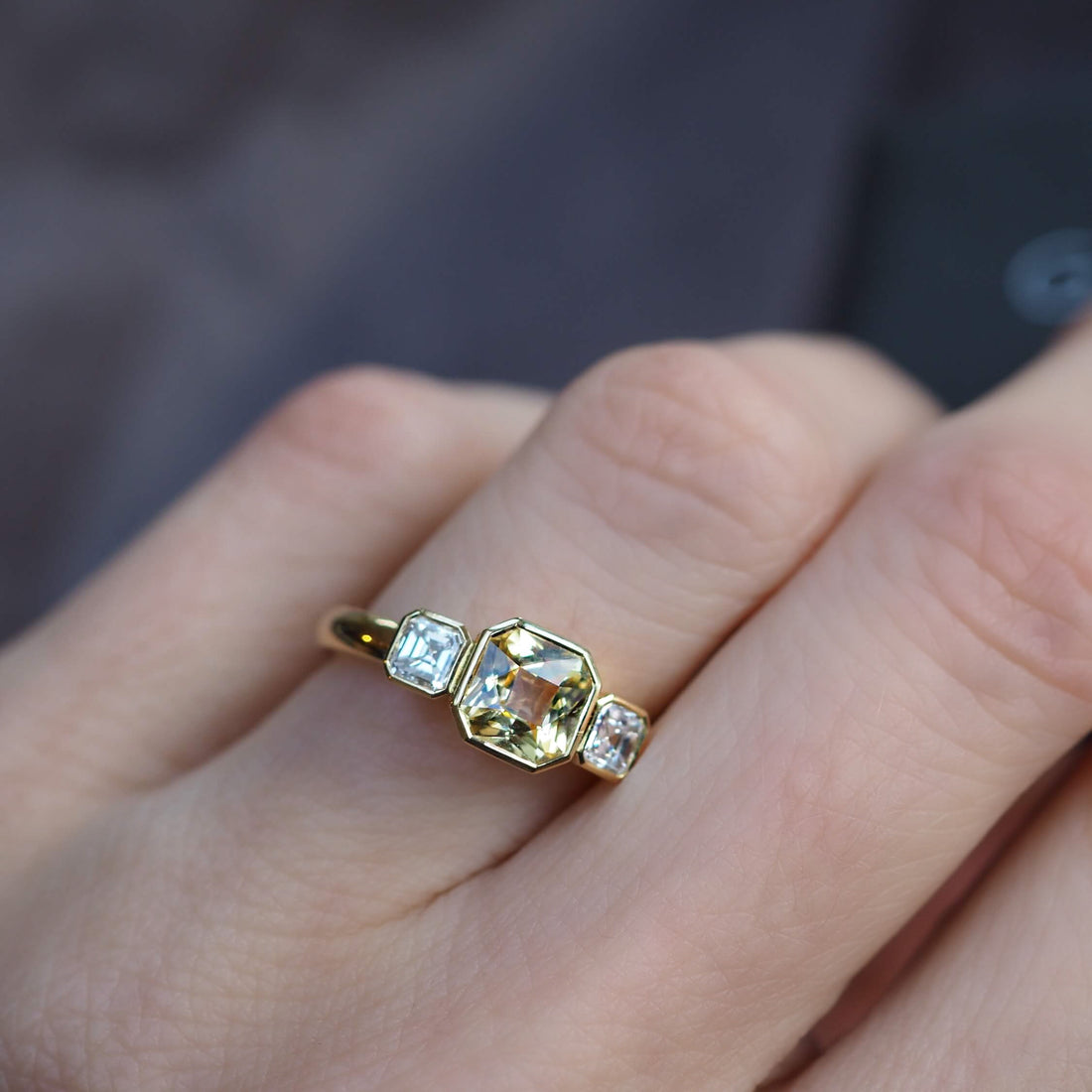 A beautiful vibrant yellow sapphire set in between two Asscher cut white diamonds, in 18k yellow gold.
This is a one of a kind design, and is ready to ship in a size L.
Ring Details
With strong, clean silhouettes and a rainbow of beautiful gemstones, Gee Woods is an exciting jewellery designer breathing new life into classic designs. From modern halo rings using hexagonal cut sapphires, Deco-inspired geometric designs, and a line in killer solitaires, this British brand is going from strength to strength creating bespoke and limited edition engagement ring styles for the modern bride.

Asscher cut diamonds are generally a square shape, although technically they're octagonal as they have the four corners cut down to create 8 sides. As with emerald cut diamonds, the cutting style and design means that they have long facets and an open table, revealing any imperfections to the naked eye (brilliant cut diamonds being much better at hiding imperfections). Most popular in the 1920s, despite being first cut in the early 1900s, the Asscher cut is having a resurgence of popularity, particularly for designs with an Art Deco or architectural feel.

We love these as an alternative solitaire diamond ring choice, or set in between smaller square cut stones like cushion cuts or carré cuts.

See all Asscher cut diamond rings here.

The sapphire weighs 1.06ts, and the diamonds total 0.66cts.

Gold is a naturally occurring metal with a warm, glowing finish when polished, and remains the most popular choice for engagement rings due to its natural beauty and hard-wearing strength.

Pure 24k gold is naturally a soft material, and considered too soft to create jewellery with, so it is mixed with small amounts of other metals to create an alloy.

As well as increasing the durability of the gold, adding alloys can also change the colour of the gold to produce rose or white gold, for example.

18k yellow gold is made up of 75% pure gold, and 25% alloy, which would usually include silver and copper.

18k rose gold is made up of 75% pure gold, 22.2% copper, and 9.2% silver.

18k white gold is made up of 75% pure gold and 25% palladium or platinum.