Pale Blue Sapphire and Baguette Diamond Ring
By Gee Woods
A pale blue octagonal cut sapphire set in Gee Woods' signature modern Deco style.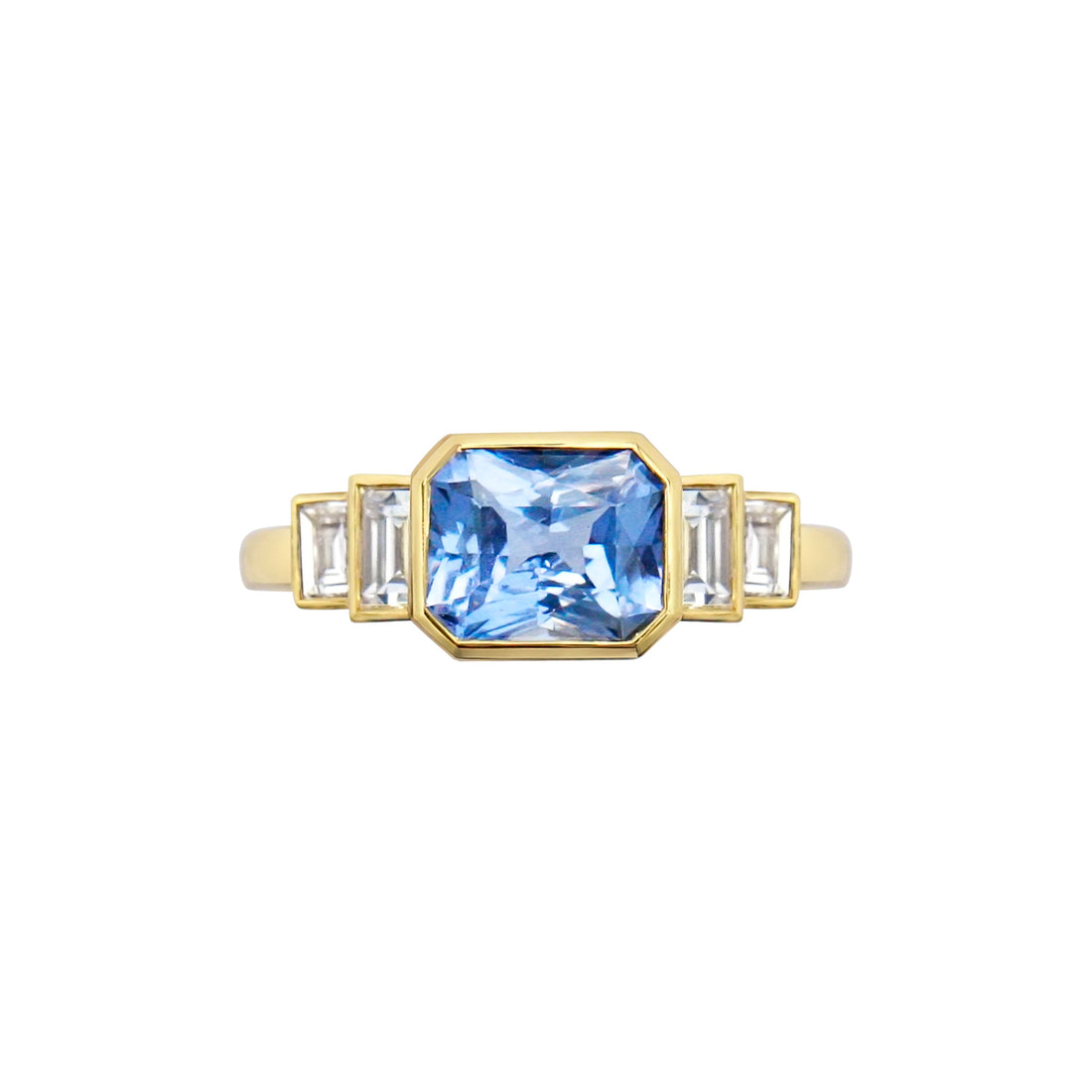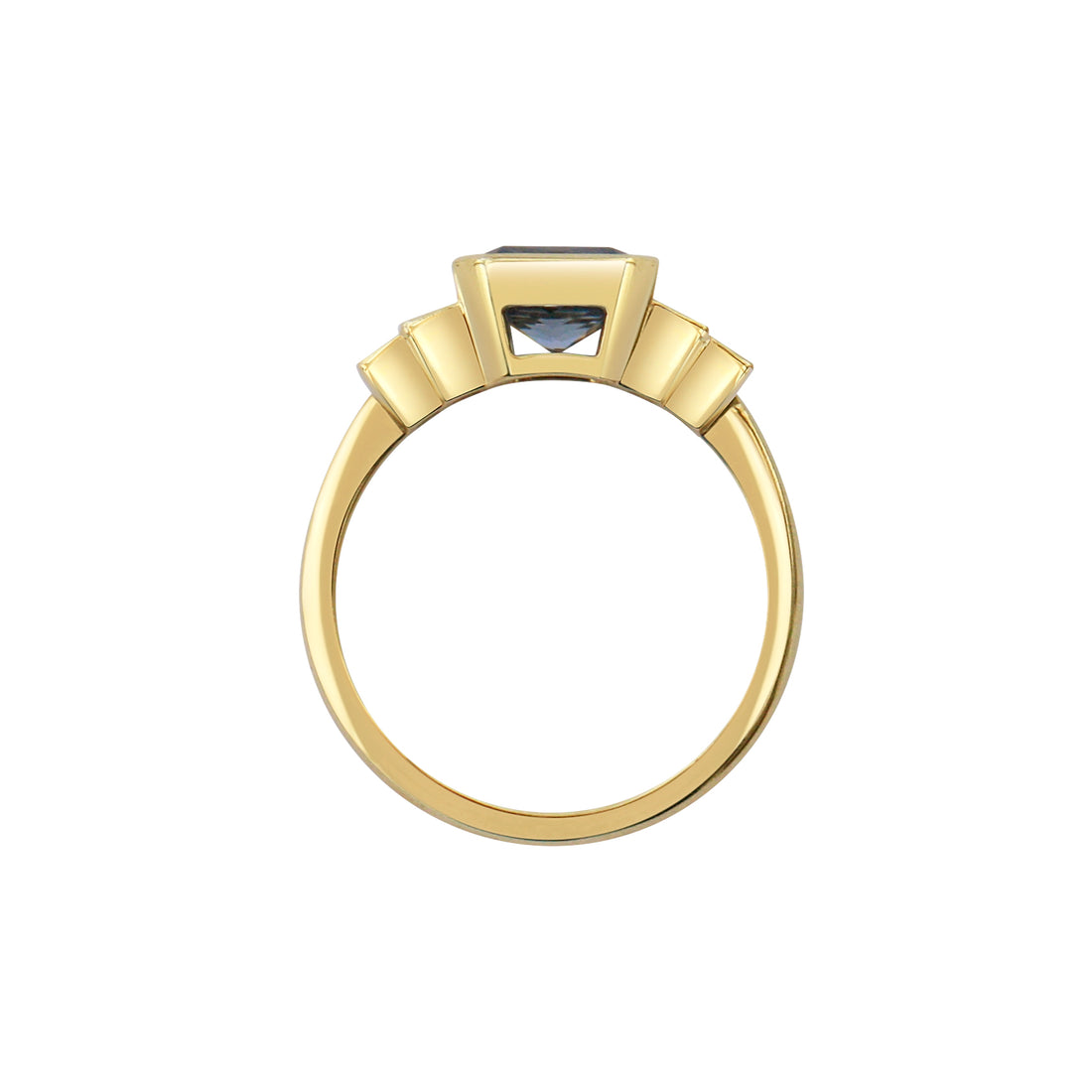 This Ring is One of a Kind
Delivery in approximately 12 weeks
A beautiful sky blue sapphire set between four baguette cut white diamonds, in 18k yellow gold.
This is a bespoke design that has now sold, shown here for inspiration. To design your own bespoke ring with Gee Woods, please make an enquiry.
Ring Details
With strong, clean silhouettes and a rainbow of beautiful gemstones, Gee Woods is an exciting jewellery designer breathing new life into classic designs. From modern halo rings using hexagonal cut sapphires, Deco-inspired geometric designs, and a line in killer solitaires, this British brand is going from strength to strength creating bespoke and limited edition engagement ring styles for the modern bride.

Most commonly found in shades of blue, sapphires are also available in pretty much every other colour you can think of, with pink, yellow, peach and green being the most popular after blue. Sapphires are also very hard, with their rating on the Moh's Scale falling just under diamonds, so they make great gemstones for daily wear on the hand.

The quality and therefore price of sapphires is based on their colour, cut and clarity, and large stones can be GIA certified as diamonds are.

The colour of the sapphire is by far the most important of all these. The shade, the tone and the depth of colour, as well as the uniformity of the colour - how well the shade is spread over the stone evenly - make a huge difference to price. Deep, dark coloured tend to hide the sparkle of the stone, so become less desirable, and sapphires that show a pure, even colour and brightness will be more expensive.

You may see sapphires where there are two different shades of colour in the stone. This is called a bi-colour sapphire, and is very common. Pure coloured sapphires with a rich, even tone in a single hue are the most conventionally desirable varieties, and therefore the most expensive. Common 'cheaper' sapphire rings found online will often feature lesser quality gemstones and the images may have been digitally altered, so make sure you always see a coloured gemstone in real life before buying.

Depending on the size requirements sapphires make a beautiful alternative to coloured diamonds. Yellow sapphires, white diamonds and yellow gold are currently a popular choice, but our favourite sapphire shade is a murky olive green.

Sapphires are traditionally the birthstone of September. See all Sapphire rings here.

The octagonal cut is extremely similar to an emerald cut, and often very hard to tell the two apart. The main difference is that octagonal cut stones often have eight equal sides, rather than the emerald cut having a predominantly rectangular shape with short 'corners' making up eight sides.

Jewellery designers favour an octagonal cut gemstone for being a less common choice, as they have a geometric but classic shape. With a large table (the top, flat part of a gemstone when looking from above) this cut favours clear, coloured gemstones of high quality with few imperfections.

Gold is a naturally occurring metal with a warm, glowing finish when polished, and remains the most popular choice for engagement rings due to its natural beauty and hard-wearing strength.

Pure 24k gold is naturally a soft material, and considered too soft to create jewellery with, so it is mixed with small amounts of other metals to create an alloy.

As well as increasing the durability of the gold, adding alloys can also change the colour of the gold to produce rose or white gold, for example.

18k yellow gold is made up of 75% pure gold, and 25% alloy, which would usually include silver and copper.

18k rose gold is made up of 75% pure gold, 22.2% copper, and 9.2% silver.

18k white gold is made up of 75% pure gold and 25% palladium or platinum.