Pink Tourmaline Geometric Ring
By Lily Kamper
£3,600
A bright pink oval tourmaline set between dark blue sapphires, in 18k yellow gold.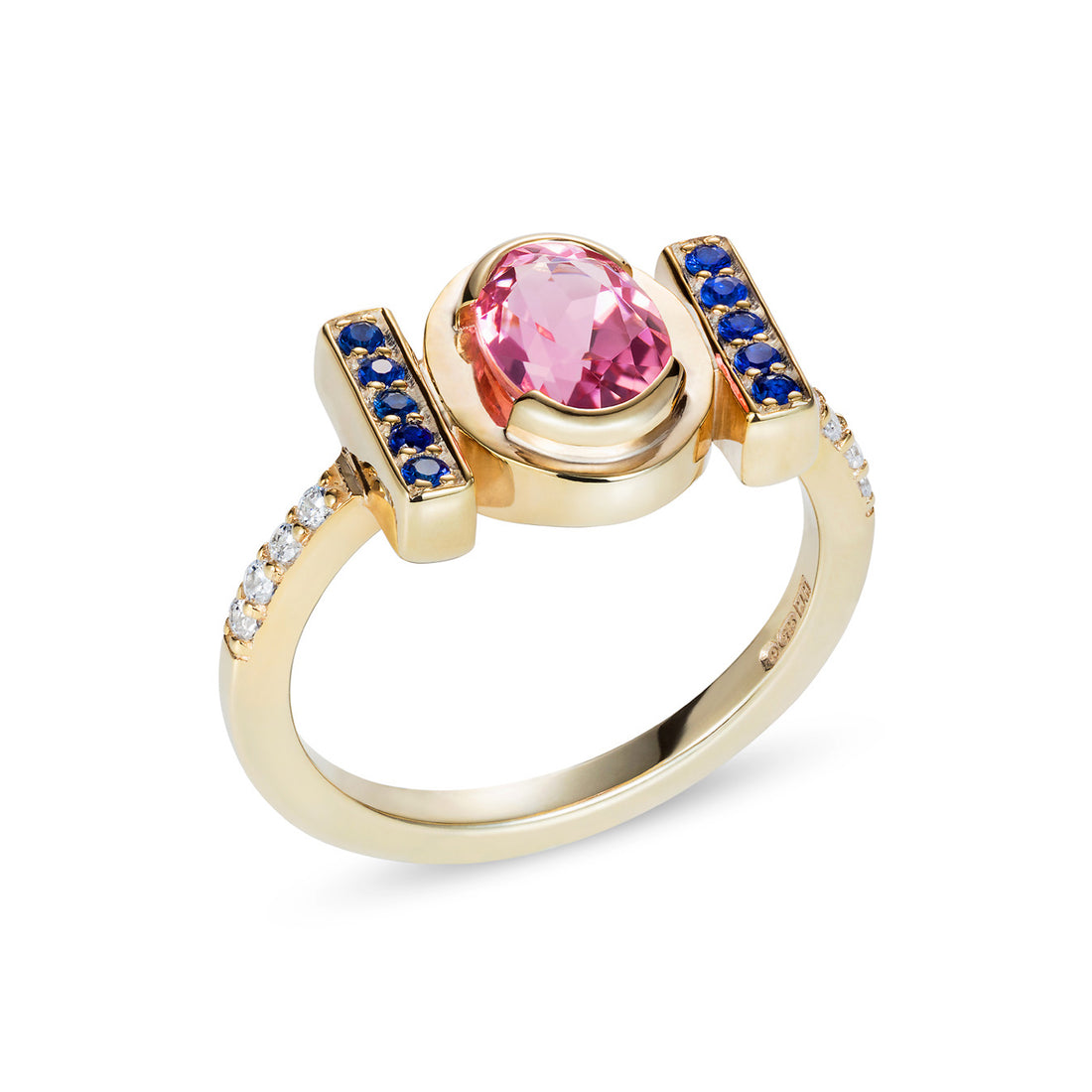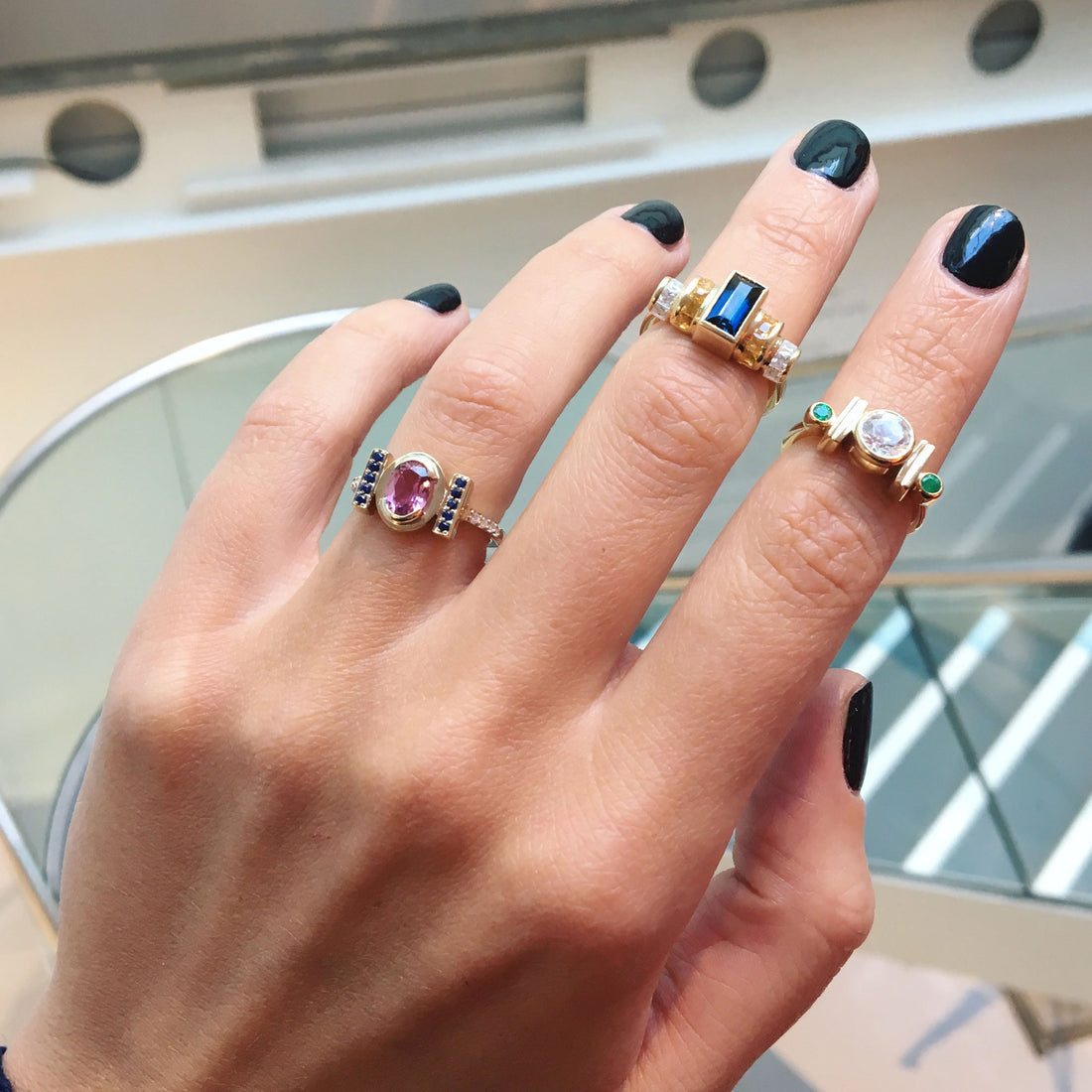 This Ring is Made to Order
Delivery in 8 - 10 Weeks.
A unique oval alternative engagement ring featuring a pink tourmaline, dark navy blue sapphire and white diamonds, set in solid gold.
This Lily Kamper piece is made to order. For more information or to design a custom version with different gemstones or metals, please make an enquiry below.
Ring Details
Lily Kamper creates bright, geometric designs from her London studio using unusual colour combinations of diamonds, sapphires, tourmalines and emeralds. A graduate of the prestigious Royal College of Art in London, Lily is a highly sought after designer for her confident and colourful engagement rings and bespoke designs.

Tourmalines are found in almost every colour - from greenish blues, to peachy pinks and electric violets. The main source of tourmaline comes from Brazil, with the rarest kind - paraiba tourmalines - found in a specific region of Brazil being highly desirable due to the radiance and bright, unmistakable colour.

Some tourmalines also display a colour phenomenon where two distinct colours appear next to each other, these are known as watermelon tourmalines, and are often cut in rectangular shapes.

Tourmalines are a relatively hard material, similar to emeralds, but are more stable due to fewer inclusions. They are popular in engagement rings for lovers of unusual colour, with peach tourmaline and teal tourmaline gemstones remaining the most desirable.

Tourmalines are traditionally the birthstone for October. View all tourmaline rings here.

Like the round diamond's sexier sister, the oval cut diamond is longer and slimmer than a classic round shape. But be cautious: the oval diamond can take various shapes and forms depending on the height to width ratio, and whereas it's a personal choice, the proportions are important to make sure the sparkle is maximised. For this reason you'll find that prices vary a lot even if the carat weight is the same, as more 'desirable' ratios will be more expensive.

The oval diamond is our choice for a solitaire engagement ring; more unexpected than a round diamond, and the longer height elongates the fingers.

See all oval cut diamond rings here.

Gold is a naturally occurring metal with a warm, glowing finish when polished, and remains the most popular choice for engagement rings due to its natural beauty and hard-wearing strength.

Pure 24k gold is naturally a soft material, and considered too soft to create jewellery with, so it is mixed with small amounts of other metals to create an alloy.

As well as increasing the durability of the gold, adding alloys can also change the colour of the gold to produce rose or white gold, for example.

18k yellow gold is made up of 75% pure gold, and 25% alloy, which would usually include silver and copper.

18k rose gold is made up of 75% pure gold, 22.2% copper, and 9.2% silver.

18k white gold is made up of 75% pure gold and 25% palladium or platinum.