Icy Grey Diamond Ring
By Gee Woods
£1,350
An icy grey hexagon cut diamond set in 18k yellow gold.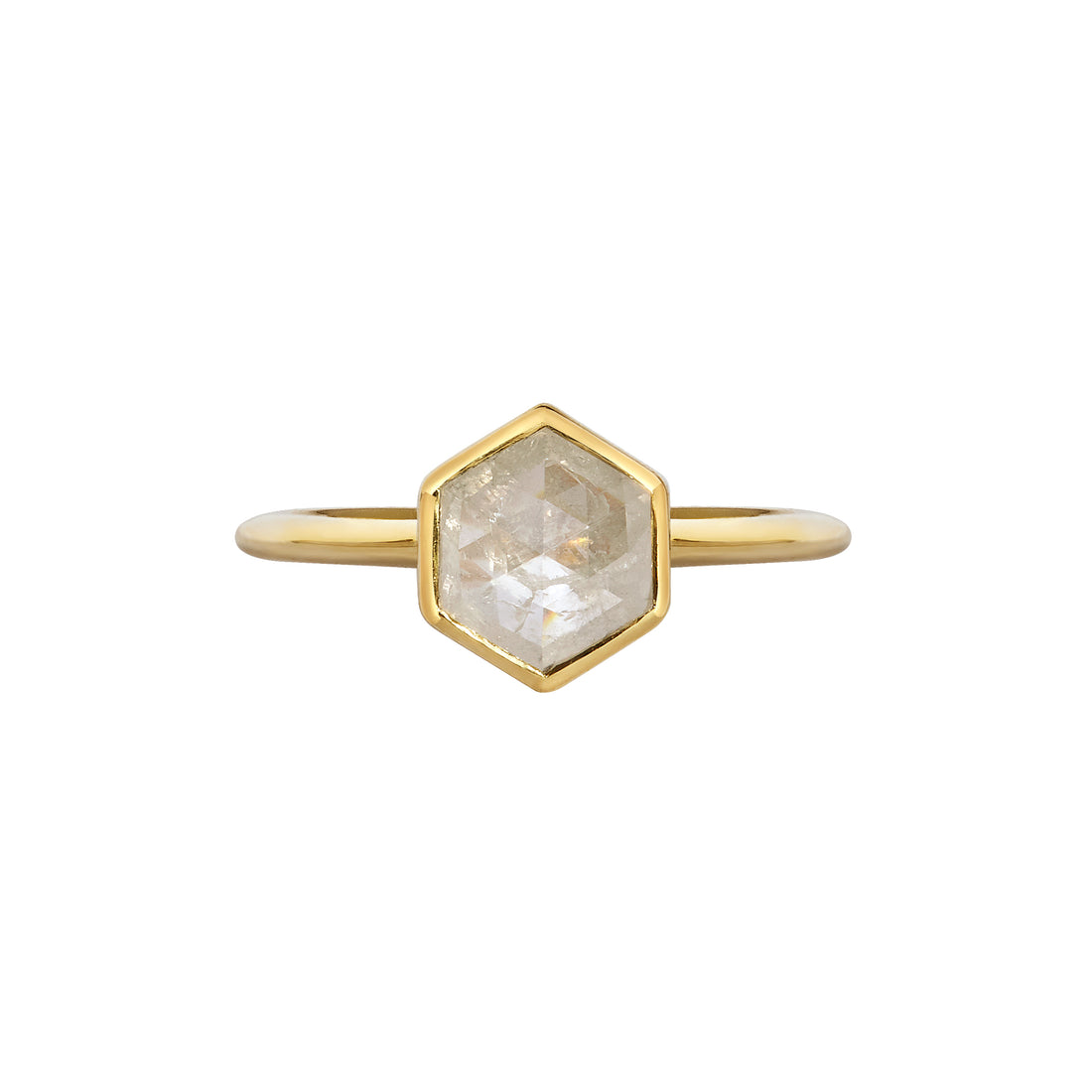 A beautiful 1.07ct icy grey hexagon cut diamond, set in 18k yellow gold.
The perfect Christmas gift for diamond lovers, in a neutral, easy-to-wear shade.
Available to ship now in a size K 1/2. Please enquire if you need the ring resizing before delivery.
Product Details
With strong, clean silhouettes and a rainbow of beautiful gemstones, Gee Woods is an exciting jewellery designer breathing new life into classic designs. From modern halo rings using hexagonal cut sapphires, Deco-inspired geometric designs, and a line in killer solitaires, this British brand is going from strength to strength creating bespoke and limited edition engagement ring styles for the modern bride.

Salt and pepper diamonds are real diamonds displaying visible inclusions that create a smattering of black and grey marks, often giving a 'salt and pepper' speckled appearance. Each salt and pepper diamond will look completely unique, and no two are exactly the same, making it a romantic and original choice for a piece of jewellery. They are extremely popular for alternative engagement rings as they feel less 'clingy' than a white diamond, and a more relaxed and low-key choice.

Please be aware that salt and pepper diamonds are different to fancy grey diamonds, which are a pure grey hue that is evenly distributed across the stone.

Hexagonal cut diamonds or gemstones have six sides, usually of equal length. Modern, graphic and sleek, this is an unusual cut and rarely seen in engagement rings. More commonly round diamonds are set into a hexagonal setting, tricking the eye into thinking the stone itself is hexagonal cut.

Gold is a naturally occurring metal with a warm, glowing finish when polished, and remains the most popular choice for engagement rings due to its natural beauty and hard-wearing strength.

Pure 24k gold is naturally a soft material, and considered too soft to create jewellery with, so it is mixed with small amounts of other metals to create an alloy.

As well as increasing the durability of the gold, adding alloys can also change the colour of the gold to produce rose or white gold, for example.

18k yellow gold is made up of 75% pure gold, and 25% alloy, which would usually include silver and copper.

18k rose gold is made up of 75% pure gold, 22.2% copper, and 9.2% silver.

18k white gold is made up of 75% pure gold and 25% palladium or platinum.